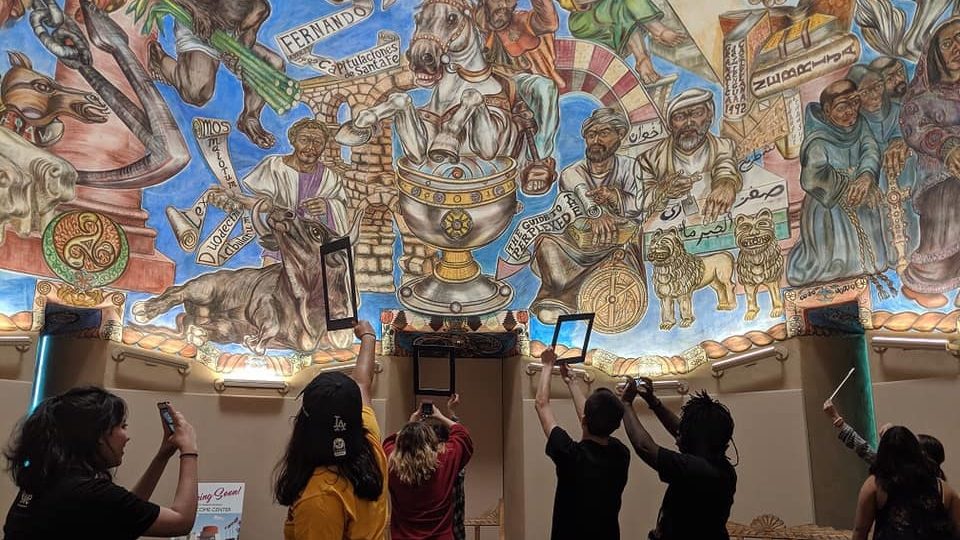 All educational lessons and activities should begin with a virtual tour of the fresco. Lessons and activities depend on a student's experience of the fresco as a whole, both at the beginning and periodically throughout their educational experience. Studying individual images is most effective as a complement.
Here is a virtual tour guide that enables you to introduce the fresco to students. Below is a comprehensive image guide to help you navigate teaching the fresco. To become acquainted with the guide, start by looking at the image list.
Of course, a visit to the fresco on the campus of the National Hispanic Cultural Center (NHCC) is the best way for educators and students to experience Mundos de Mestizaje. However, the COVID-19 pandemic and construction near the torreón (which houses the fresco) has forced the closure of the NHCC campus. The virtual tour provides access during this closure and also enables those who live anywhere to see and learn from this magnificent work of art.
We invite educators to provide feedback on the lesson plans in this curriculum after using them in the classroom. Use this form to tell us about your experience.