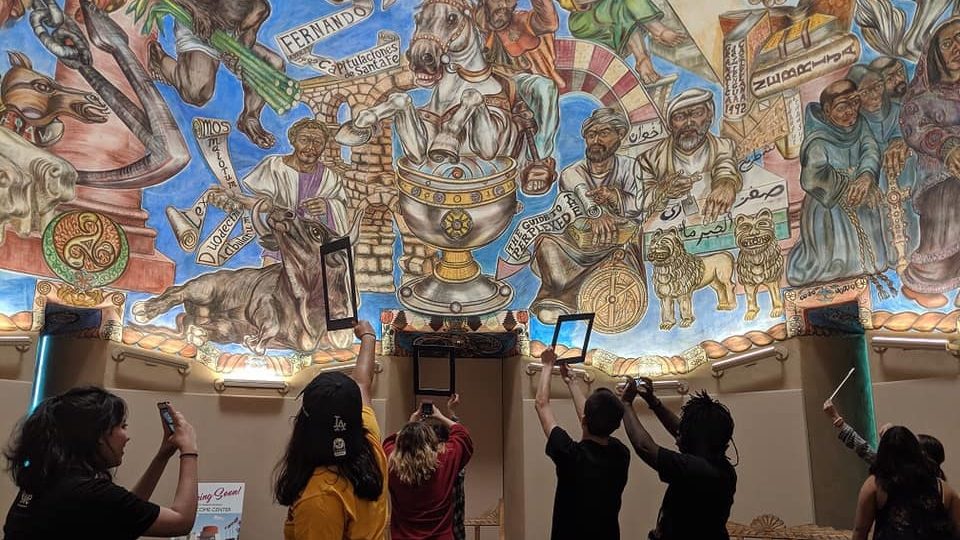 All educational lessons and activities should begin with a virtual tour of the fresco. Lessons and activities depend on a student's experience of the fresco as a whole, both at the beginning and periodically throughout their educational experience. Studying individual images is most effective as a complement.
Here is a virtual tour guide that enables you to introduce the fresco to students. Below is a comprehensive image guide to help you navigate teaching the fresco. To become acquainted with the guide, start by looking at the image list.
Of course, a visit to the fresco on the campus of the National Hispanic Cultural Center (NHCC) is the best way for educators and students to experience Mundos de Mestizaje. However, the COVID-19 pandemic and construction near the torreón (which houses the fresco) has forced the closure of the NHCC campus. The virtual tour provides access during this closure and also enables those who live anywhere to see and learn from this magnificent work of art.
We invite educators to provide feedback on the lesson plans in this curriculum after using them in the classroom. Use this form to tell us about your experience.
The History and Literary Arts Program at the National Hispanic Cultural Center has created a K-12 Social Studies and Language Arts educational curriculum centered on Mundos de Mestizaje, the monumental buon fresco inside the torreón on the NHCC campus.
Mundos de Mestizaje, by New Mexico master-artist Frederico Vigil, is a buon fresco that depicts thousands of years of Hispanic identity, history, and culture in the broadest sense, from Europe to Mesoamerica to the American Southwest. At 4,000 square feet, it is the largest, concave fresco in North America.
By engaging with the fresco, children and young adults will explore history (including issues of identity, culture, and trans-cultural exchange), geography, civics, government, and economics through a wide range of looking, discussing, reading, and writing lesson plans and activities.
Overall, the goal of this curriculum is to cultivate a deeper and more complex understanding of Hispanic/Chicanx/Latinx history and identity as well as other ethnic identities that are the result of thousands of years of cultural cross-pollination. At the NHCC we believe that such an understanding encourages courageous and compassionate civic dialogue and mutual respect.
Below you will find curricular goals and standards as well as links to related lesson plans and activities. This is an evolving resource for students, educators and parents, and will grow with time.
We also refer educators and parents to The Human Body as Art, an educational resource that addresses nude figures in the fresco.
Also extremely important is the classroom atmosphere in which these lessons and activities take place. Because Mundos de Mestizaje often generates spirited discussion in the classroom, we encourage educators to undertake the assignments by creating:
a culture of listening
a culture of conversation
a culture of friendly disagreement
Educators interested in how to cultivate this kind of classroom are encouraged to read an excerpt from a report on visual thinking by Harvard Project Zero.
If you have questions or comments about this curriculum, please contact us at HLA.Admin@state.nm.us.
We would like to thank the following for over a year of dedicated work in creating this curriculum: Valerie Martínez, Cassandra Osterloh, Anna Uremovich (History and Literary Arts staff), Rosalie Esquivel, Vanessa Justice, Allison Johnson, Sutherland Jaramillo, Naomi Brandt (AmeriCorps Members), Angela Durham, Diana Aranda, Juliette Beck, Carolyn McSherry, Beatriz Valencia, Brent Thomas, and Nancy Pauly (Teachers Advisory Group). There are many others who have contributed to this effort, too many to name here; we are grateful for all. Thanks also to the NHCC Foundation, the Consulate of Mexico in Albuquerque, and Casa Madero for generating financial support for this project. Our deepest gratitude goes to Frederico Vigil for his continuous and generous guidance and encouragement. Thank you for creating a magnificent work of art that allows for lifelong learning, enrichment, and wonder.
To view a full list of curriculum and associated standards, click here.
History
Geography
Civics and Government
Economics
Lesson plans coming soon!
To view a full list of curriculum and associated standards, click here.
Reading
Writing

To view a full list of curriculum and associated standards, click here.
History
Geography
Lesson plans coming soon!
Civics and Government
Lesson plans coming soon!
Economics
Lesson plans coming soon!
To view a full list of curriculum and associated standards, click here.
Reading
Writing
Sinopia Activity
Fresco Tour Activity